Album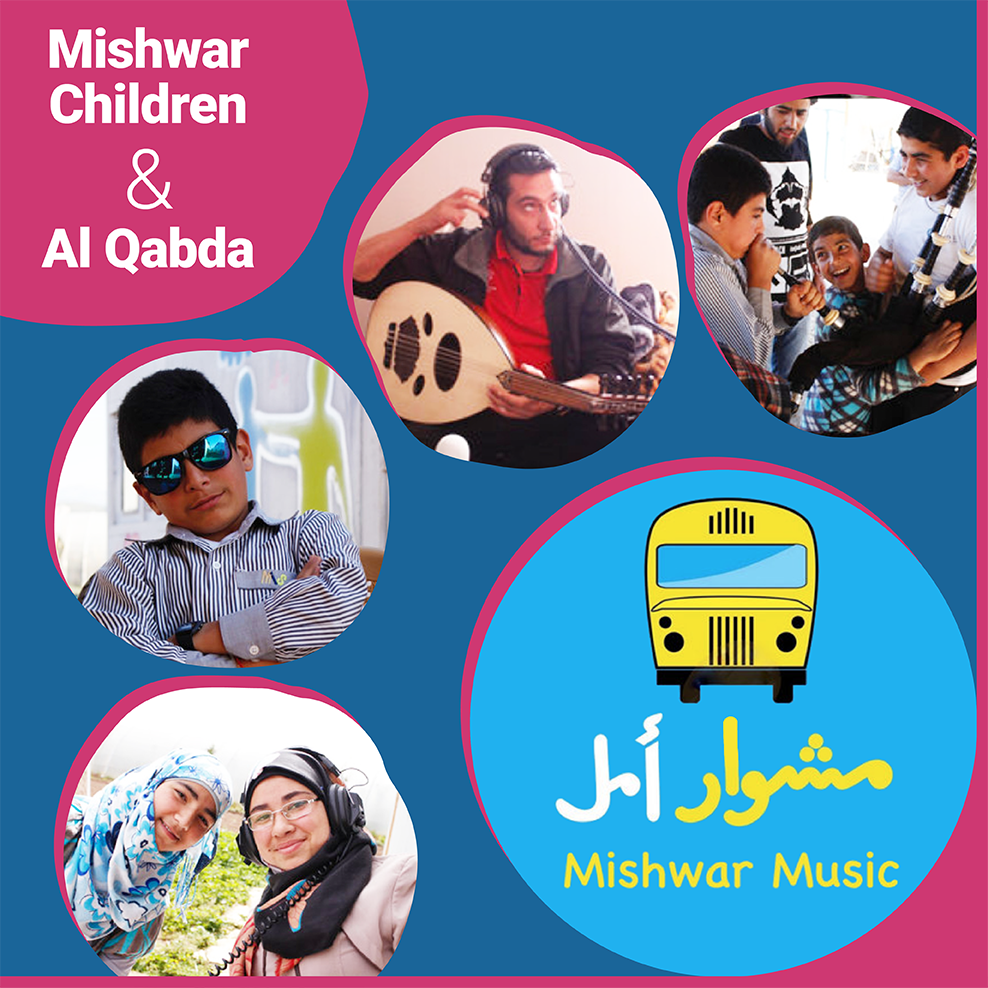 'Al Qabda, 'The Fist': "We are a young trio from the Beddawi Palestinian refugee camp in Tripoli, North Lebanon. We write and perform songs which tackle the issues that affect us and our communities here, living as unwelcome people in a foreign land, denied our rights for decades. We want to bring forth the voices of our community and help express the common frustration we all hold against our corrupt and sectarian leaders and our broken society which accepts things as they are."
Who told you that oppression is not a crime and even more
I was banished from Palestine with doves and orchards
I lived hard days and circumstances with depression on a mattress-less bed
In order to help sleep I lived in Lebanon struggling for my living
But people kept envying me while I was wondering, why the envy?
Since I am in this broken country, there is nothing to lean on, and my land and space is violated
The Zionist oppressor, the same who took my money, exactly like our presidents
It's like looking for a needle in a haystack
Every time I see hope my luck prevents me
My identity has been written on my prison where I am sentenced to death
Until the time when my life improves like other people they will envy me again and I will retreat to the start
Chorus: Your poverty is not something new, so never blame us, I keep saying and repeating the problem is in you, not in us
The grudge is escalating and we're going on the worst path leading to corruption in the country
Explosions, destruction, the sky is becoming black and they closed the curtain
They took Palestine by America's decision
We are men only against each other
The moustache is a disgrace while your land is taken
We ally with the West and grudge runs in our blood like nicotine
The nicotine and the syringes are killing us and crucifying our brains
We dress in black and coffer in coffins and live on grudges and we try to distract our
mothers on how the future for youths is destroyed
It continues while our conscience is dead and dialogue is disabled which has blinded
the hearts of the young and the old
Peoples have destroyed Palestine, Syria and Lebanon
Souls are agitated, no mercy, so where are human rights?
Everyone is diving into forgetfulness and the Satan that ended us
They erased religions from us exactly like a violin that is stuffed with resentfulness
From the number of times they played the same tone of destruction
Our hearts are filled with hatred and this is everything in short
Waiting for the violin to be strung again
Chorus: Your poverty is not something new, so never blame us, I keep saying and
repeating the problem is in you, not in us

24 hours are the same repetition from which I got bored of counting daily
I feel they're increasing but they become part of me, I got used to loving them
People around me they make progress while I stay in my place
I would like to change but my circumstances never allow me
I dropped the weapon, my pen, and I choose money despite the difference yet I'm not content
It's all rubbish that I left my education and I was the judge who condemned to put an end to my dream
My mum shed tears, she knew that I would not get better, I'm not suitable even to my friend
My real dream is to be music
All that is left to me is the stick in my hand that plays tunes like an ascending scale
Acquiring knowledge despite the barriers and one of the barriers is the eye of a needle
Walking the avenue of hope, stand up, face foolish death and the illusion of failure
and continue going until I reach the summit
Nothing stops me except death
Chorus: Surrender or fight the sentence of death, it is a continuous dialogue between me and myself
Days are increasing the feeling of failure inside me, my frustration is rising and my dream is being extinguished
No relationship, totally dehydrated and living on the equator where the waters don't change
I'm orbiting like a blind planet whose thoughts are agitated
I've been this way for a while, maintaining my patience in this situation, resenting life
The past has deprived me of my goal and my ideal dream
Every Arab has been infected by this sickness
And those who were behind us became the front and he manipulated the story that
was a novel; the same ideas repeating but in different tales
Chorus: Surrender or fight the sentence of death, it is a continuous dialogue between me and myself


My id is an emigrant
My nationality is homeless
My job is a traveler
My city is every city
It's only the chance's noise
After which the time's stopped
I'm in the land
The dream's been lost
And we paid the price
Poverty is banishment in your homeland
While money is to be an alien
Earth got one shape, yet people are numbers
Imagine how many numbers in that one shape
Any equation can solve this matter can earn gold
If it was doable my father would have been rich
Since I was young I watch the series of the struggler
I reject this case of being the burden, I want to be the supporter in this country
And be ideal one
For that I always keep my dream
But if it went well with me like all the people
They'd envy me and I'd retreat
.... Chorus- Your poverty is not a new thing
No, never blame us
I keep saying and repeating the problem is in you not in us


since I left my homeland
feeling lonely and tired of this situation
how'd I forget your soil oh my homeland?
I'm proud of my origin since came into existence
the tears are shed losing every martyr
it's heartbreaking all the explosions news
I am patient, yet I can't help maintain
till when the war keeps dwelling in our hearts?
(kids chorus )
oh, our motherland! we're your kids
we put ourselves in line for you
our love for you is eternal
we swear we miss you
and pray for you in hard times
..........................
oh, you oppressor! just tell me what do you want?
I left my home, since then I live in adversity
every day I'm waiting for the sun to rise
I'm quite sure we are not slaves
we are born free
we saw by the right's light
how our nation betrayed us
(kids chorus )
oh, our motherland! we're your kids
we put ourselves in line for you
our love for you is eternal
we swear we miss you
and pray for you in hard times
...........................
I dream to go home
that's my biggest dream
oh, the house in which I was brought up
with all the joy of my days and life
how much I miss our village and gathering
in banishment, I am quite miserable
and so hard it is our life there
so much I do miss you oh my mother!
I miss to hug you
in your eyes are the secrets of the universe
your light can relieve all my depression
I do miss you oh my mother
to see me in my coffin
while people are crying and singing for me

About
The Friedrich Naumann Foundation for Freedom is a German political foundation committed to the promotion of liberal principles and political education in Germany and abroad. The goal of the foundation is to strengthen the principles of freedom and dignity for all people, in all areas of society. FNF realizes this through innovative initiatives that support liberal civic education, political consulting, entrepreneurship, human rights and female empowerment.
Mishwar NGO was launched in May 2016 as a response to the ongoing refugee crisis in Lebanon and works with hundreds of youth in the north of the country, mainly operating in three tent settlements, one refugee camp, and several other locations. Through creative workshops of music, sports, community art, cinema, filmmaking and more, Mishwar's aim is to improve the severe pyscho-social depredations, harsh economic conditions, and lack of educational opportunities from which these communities suffer. Through their countless creative projects, Mishwar brings together different communities and realizes the potential, which is all too often lost in such difficult circumstances.
Firas Itani, born in 1996, is an aspiring Filmmaker from Beirut. He holds a BA in Film & TV from the Lebanese American University in Beirut. Sugarcoat, his directorial debut, was awarded best capstone project in 2018. It went on to participate in several festivals, local and international. Firas is a freelance filmmaker, interested in tackling current social issues especially giving voice to minorities and marginalized groups in the face of rigid social structures.